References and Testimonials
Royal Dutch Veterinary Medical Association (KNMvD)
"The difference in spring and stability in the horse footing before and after installing FS GeoTEX is significant. It adds impressive and
improved shock absorption of the arena footing, while we noticed an audible difference in the sound of the footfalls. We have to water far less than before due to the fiber addition. Riding on perfect arena surfaces is a major factor in avoiding leg injuries in horses. For our practice facility we can now work our rehab cases and our own horses in optimal conditions!"
Testimonial by Dr. Rob Van Wessum
Equine All Sports Medicine Center, Michigan
Diplomate of the American College of Veterinary Sports Medicine and Rehabilitation Board Certified Practitioner in Equine Medicine of the Royal Dutch Veterinary Medical Association (KNMvD)
From Florida to Hawaii, California to the Arctic Canada,
see testimonials from satisfied customers across the nation:
Good morning Hilo,
I could not wait to send this email this morning. The mirrors are complete and PERFECT.
I can only say positive things about you, Hilo, for the patience and attention that was offered to us.
Hendrick and Jan were professional and the perfectionist that one would hope for in such an installation.
They adjusted the mirrors over a couple of days. The clarity is amazing and it is distortion free. Everyone is so pleased.
I have scheduled a photo shoot and video presentation with Total Horse Channel within the next 2 weeks. We will have a professional advertisement for the barn and the mirrors.
A new website and Commercial Face Book will be ready very soon.
Once again, thank you for your service.
– Lori Wubker
Windsong Farms Equestrian Center
Apopka, Florida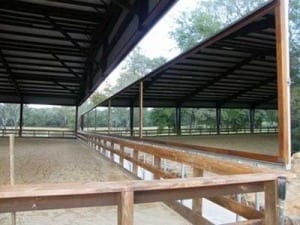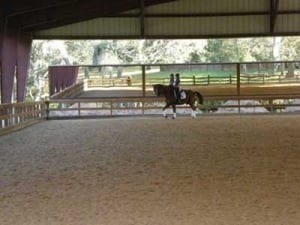 Our customer from the far West:
We just had a clinic up here with one of the top Dressage riders in the U.S., who was impressed with the quality of your mirrors. Having the mirrors with clear images was such a great training tool. The installation by our local contractor went really smoothly according to your installation instructions. The entire short side was up and mounted within one day!
Just wanted to let you know that the FSGeoTEX fibers are all worked in and the arena is great…much more life to it. The horses are all very happy!
– Pamela Jones
Oahu, Hawaii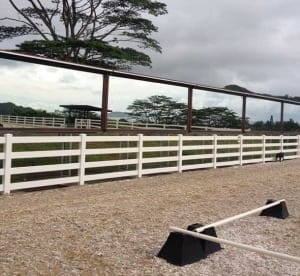 Arctic Canada
– from the world's most Northern dressage barn –
We are really happy with our new 16 foot mirror, here at possibly the world's northernmost dressage barn. In this challenging arctic environment, it provides a phenomenal training tool as there are few coaches who are brave enough to come to this remote, unhorsey location!
Amazingly, the mirror stays clear and does not fog up or ice up, although we have outside temperatures that dip lower than -40 in the winter! Our propane gas heated Cover All arena hardly warms up when it is so cold outside. I have tried other mirrors in the past with no success, and the aluminum laminate on the reverse side of this mirror seems to keep the image completely clear with no distortion. We installed it according to the instructions, but placed the concrete blocks on top of the footing due to the permafrost which creates permanently frozen ground here.
The horses each love to admire their new companion in the mirror, as you can see.
Thanks for the great service-I will be ordering another one soon.
– Alexandra Hampson
Sundog Stables
Yellowknife, NT, CANADA
I absolutely love our mirrors. The clarity across the entire length of the dressage court is unbelievable.
I find the immediate visual feedback of the mirrors the ultimate training aid for perfecting
movements and making real time corrections – especially when I am training on my own.
– Gina Bornino-Miller
Templeton Farms Equestrian
Templeton, CA