Footing drag for jumping arena footings, geo-textile footings, ebb- and flow arenas, where additional compaction
of the arena footing is needed.
Available in 7.25 ft. and 9 ft. wide
Professional maintenance for jumping arenas: Leveling, blending and compacting of geotextile arena footings and fiber footings in one quick step with the Platz-Max NL-FF
 The swinging blade sits in front of the coil tines which levels the uneven ground.
 The coil tines are arranged at 80 degrees in two staggered rows. They fill in hoof imprints and blend in geo-textile footing additives without ripping them out of the arena footing.
The heavy Farmflex roller compacts the arena footing for extra stability in
jumping arenas
.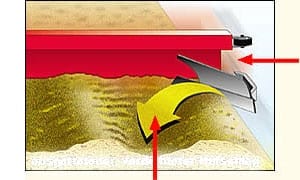 Track cleaner
The angled track cleaner levels any
arena footing
build up
along the track and eliminates physically demanding job of hand raking.