Olympia and World Cups #1 Footing Drag. For geo-textile footings, dust-free arena footings and all sand arena footings Available in 7.25 ft. and 9 ft. wide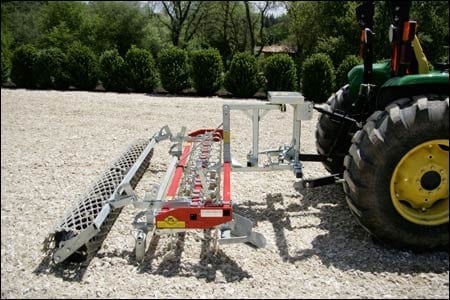 Arena drag specifically designed for geo-textile footings, tends your arena footing in one pass without pulling out any additives. Loosening, blending, leveling and light compacting in one easy step
The coil tines are arranged in two staggered rows. They break up any hoof imprints and any compaction by the activity of horses' hooves. The tines thoroughly intermix the surface materials like sand with geo-textiles, rubber shreds and wood chips. As soon as the tractor accelerates, the tines start to vibrate and act like a blender.

The swinging level blade behind the tines levels any unevenness and fills in hoof imprints. The special construction of the blade prevents any bulking up of the arena footing.

The lattice roller with counter-rotating discs performs the final blending of the additives and light desired compaction of the arena footing.
Ripper attachment
Ripping shanks can be mounted additionally to all models, breaking up the hardest of soils and compacted horse arena footings.
Track cleaner
The angled track cleaner levels any arena footing build up along the track and eliminates physically demanding job of hand raking.