Diamond Riding Arena Mirrors – A Key Training Aid
Crystal safety glass dressage mirrors for indoor and outdoor riding arenas show exceptionally clear reflections of you and your horse in motion. Our Diamond Arena Mirrors are specially designed for equestrian use and consist of tempered Crystal glass with integrated layers for shock absorption and can be used in any climate. For outdoor use, we offer steel mounting structures, which are fully adjustable in height and angle.
Approved for Florida's wind load.  Made in Germany
See our photo gallery below for examples of the crystal clear Diamond Arena Mirrors with no distortion.
The Diamond Arena Mirror System is a key training aid for the serious dressage and hunter/jumper rider. Our mirrors reflect the true moment of the movement, straightness and balance. We offer a variety of standard arena mirror sizes for the long side and track corners or made to measure to cover the entire short side of your equestrian riding arena.
From Florida to Hawaii, California to Arctic Canada,
see testimonials from satisfied customers across the continent here:
"Beautiful Reflections"
Wind Song Farms in Apopka, Florida
Diamond Mirror Systems
Photo is of Griffin taken by his owner Sarah Medvitz
Impressive clarity, crispness and brightness of image at all distances

Reflect the true moment of balance, movement and straightness

Variety of standard size mirrors for 20 m walls, track corners or made to measure sizes

Steel support structure for outdoor mirrors is fully adjustable in height and angle.

Shatterproof Crystal Safety Glass
Cross-section of the Diamond Mirror System
Shock resistant crystal safety glass
Foam backing and anti-shock pad
Insulation compound preventing vapor
Thin aluminum layer deposit for corrosion protection
Meranti wood frame 3 x 2.5 inches (not shown)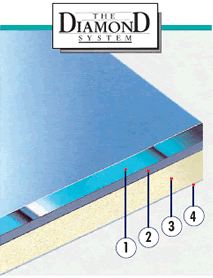 Optional Roller Blinds

Mechanical or electric roller blinds are available in a wide selection of colors
Electric Roller Blinds for Arena Mirrors
Mirrors of any size can be covered with a roller blind featuring mechanical or electrical controls and a lateral stainless steel rope.
The mirror cover consists of a tear-resistant, dimensionally stable fabric coated by high quality, washable and non-fading polymer material.
The roller blind is enclosed in a compact, powder-coated aluminum housing fastened to the upper wooden frame.